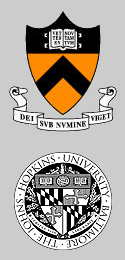 EDUCATIONAL BACKGROUND
Princeton University, Princeton, NJ,
A.B. Degree, 1961

Johns Hopkins Medical School, Baltimore,
MD , M.D. Degree, 1965
PERSONAL REFLECTIONS
Hailing from Washington-Lee High School in Arlington, VA, Princeton opened up new fields and vistas, taught me to question information and ferret out the truth and allowed me to find life-long friends, who I have greatly admired through the years.
With a major in Biology, Princeton opened a gate into the world of Medicine, which led to Johns Hopkins Medical School, residency at Hopkins and UCSF, eighteen years of fundamental biological research at The Rockefeller University and professorships at Rockefeller, Yale University School of Medicine and Harvard Medical School.
The academic path led to continual delights and included (i) participation in seminal scientific work honored in Nobel prizes awarded in Medicine in 1974 and 1999, (ii) the development of innovative new methods and patents, (iii) the discovery of new physiological processes, (iv) publishing the definitive book on the Pancreas in two editions, (v) elucidation of the pathogenetic mechanisms involved in cystic fibrosis and (vi) invention of the first procedure to produce cDNA libraries significantly enriched in full-length genes.