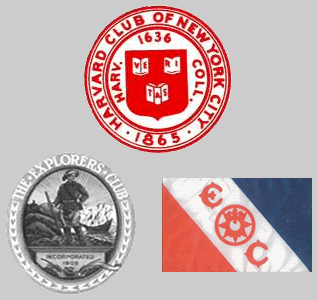 CLUB MEMBERSHIPS:
The Harvard Club
27 West 44th Street
New York, NY 10036
The Explorer's Club
Singer Mansion
46 East 70th Street
New York, NY 10021
TRAVELS:
As part of my membership in the Explorer's Club of NYC, I have had a long time interest in explorations around the globe from the point of view of scientific studies as well as history and anthropology. As part of these interests I have traveled to Asia, South America, the Middle East, Persia, Africa and many times to Europe. Notable travels include the following:
1959 - I was one of the first American students to travel throughout West Germany & Austria post WWII and visited both East and West Berlin. My travels took me to Giessen, Marburg, Wiesbaden, Frankfurt, Stuttgart, Baden-Baden, Freiberg, Lake Titisee, Konstanz/Lindau, Salzburg, Garmisch, Oberammergau, Ober Gurgle, Bechtesgaden, Rothenburg ob der Tauber, Nurnburg, Kiel and Amsterdam, Holland. During three weeks of the summer (10 weeks total) I worked on a farm in Diez, "an der Lahn". I also investigated German universities and fraternity traditions, including "Die Mensur", the traditional fencing duels that fraternity students took part in.
1968 - I toured Mexico , South America and the Carribean. My travels took me to Mexico (Mexico City), Peru (Lima, Cuzco, Urobambu River, Macchu Picchu), Chili (Santiago, San Cristobal), Brazil (Brazília, Rio de Janeiro, São Paulo and a boat trip on the Amazon River), Antigua, Trinidad and St. Thomas. While in Cuzco I was requested to conduct "rounds" in the local hospital on several patients severely injured in a train collision. I consented to this request and offered the experience that I had acquired at Johns Hopkins Hospital.
1969 - I traveled to Greece , Italy and Spain . There I visited Athens, Corinth, Delphi, Rome, Pompei, Florence, Venice, Padua, the Italian, French and Spanish Rivieras, Madrid, Sitges, Torremolinas and the Rock of Gibraltar with its wild groups of monkeys.
1970 - I traveled around the world. My travels took me to Hawaii (Kaui), Japan (Tokyo & Osaka), Hong Kong Island & Kowloon, Thailand (Bangkok, Chang Mai, Pattia Beach), India (Calcutta, New Dehli, Agra and Kajuraho), Nepal (Katmandu, Mt. Everest), Iran (Tehran, Isfahan, Shiraz, Persepolis and the Caspian Sea), Lebanon, Egypt (Cairo and a trip up the Nile to Luxor). In Iran I was invited into a local merchants home on the Caspian Sea. In Thailand I rode elephants pulling teak logs out of the jungle so they could be transported down the river to Bangkok. In Egypt I road camels to explore the surroundings of Luxor.
1971 - I traveled to Iran, to celebrate the 2500th Anniversary of the Great Persian Empire in Persepolis. On this trip I visited Jerusulem, Jericho, The Dead Sea (Qumrun, the home of the Dead Sea scrolls, and Massada, the site of the Roman massacre of the Jews), Bethlehem, Nazareth, the Sea of Galilee, Tehran, Isfahan, Shiraz, Persepolis and Pasargade (Tomb of Cyrus the Great).
1974 - I traveled extensively through the Mayan ruins in Mexico (Teotihuacan, Chichen Itza, Palenque, Monte Alban) and visited the Galapagos Islands off the coast of Ecuador. During my time in the Galapagos I toured the islands in a private fishing boat manned by an Ecuadorian ship captain, who had sailed and fished these waters for 33 years. I studied the sea lions, the seals and the giant tortoises and ate fresh seafood taken from the sea. The highlight of this trip was catching "Sally Lightfoot" crabs by hand, placing them in "gunny sacks" and cooking & eating them on New Years Eve!
1997 - I traveled to South Africa. Before attending a scientific meeting in Cape Town I visited the Kruger National Forest and, with Drs. Jim Jamieson and Fred Gorelick, I spent three days camping and hiking through the Game Forest to film elephants, giraffes, lions, wildebeast and other wild animals.
In addition, I have traveled extensively throughout the United States , visited three World's Fairs (New York; Montreal and Osaka), and attended two Carnival celebrations in Rio de Janeiro .
Hobbies:
Renovating buildings and homes.
• 1978-80: With two partners I purchased, renovated and developed the 9-story "Rothchild Building" into a 7-floor Residential Cooperative, with two commercial floors, at 28 East 22th Street in New York City .
• 1998-99: I renovated a three-floor Spanish-style Townhouse on Bonair Place in La Jolla , CA
Sports:
1960s: Lacrosse, 150 pound Football, Rugby and one of the first dedicated runners in the 20th century.
1970s: Long distance running. Sailing.
Later: Hiking, swimming, tennis
Avocations: World travel, cooking, classical music, photography, computer applications
Charities & Philanthropic Interests: Common Cause, Old North Church, Boston, Princeton Annual Giving.